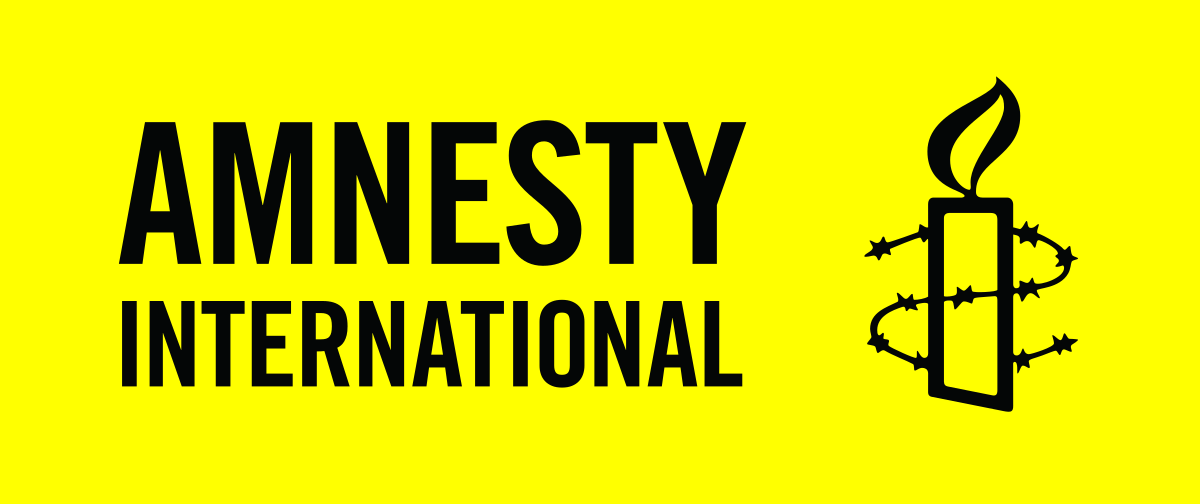 GUEST ESSAY SERIES
For Pride 2022 & Indigenous History Month, we've curated a special guest essay series written by community activists & leaders of queer & Indigenous-led orgs. Throughout June, we'll release one essay a week, each highlighting a different human rights issues for these communities.

The first essay: On Intersectionality, Access to Justice, and Walking Between Worlds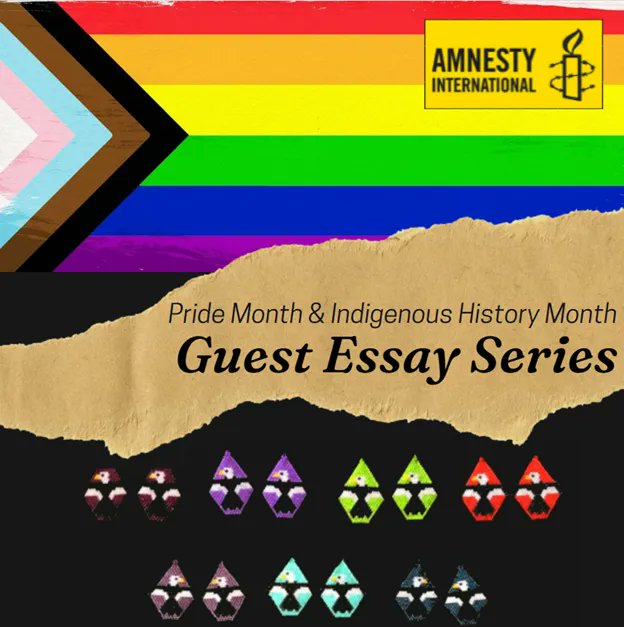 SOLIDARITY ACTION WITH ANTI-WAR PROTESTERS IN RUSSIA Take a selfie holding a sign using phrases from Russian protesters. Try to use a backdrop that helps identify your location such as an iconic building or city/town sign. Post your image on social media using the hashtags: #нетвойне #notowar #UkraineRussiaWar and be sure to tag @AmnestyNow on Twitter and @Amnesty Canada on Facebook and Instagram. Please also email your images to hhomes@amnesty.ca.

Further instructions, sample phrases in Russian and examples of posters.

More info and updates. Text AITO MONTHLY MEETING
Thursday, June 16th at 7pm EST Please join us for our June monthly AITO members meeting taking place Thursday, June 16th at 7 PM EST. All groups, teams and networks are encouraged to attend to share a report on your plans and activities. For new members and volunteers, there are many learning opportunities and it is a great way to discover how the organization works and how you can become more involved. Click on this hyperlink for registration and note registration is required in advance. After registering, you will receive a confirmation email containing information about joining the meeting. For more information please contact aitosecretary@aito.ca.
DEMOS TO STOP IMMIGRATION DETENTION IN CANADA
Saturday June 18th DAY OF ACTION: in Toronto, Ottawa and Port Coquitlam!

Despite its reputation as a refugee-welcoming and multicultural country, Canada detains thousands of people in immigration detention every year.

On Saturday June 18th Amnesty activists in Toronto, Port Coquitlam and Ottawa Canada are planning demos in front of immigration detention centres in the three locations asking Canada to get on the path to abolishing the harmful practice of immigration detention.

For more details on the campaign, the joint report with Human Rights Watch and actions you can take please go to: https://www.hrw.org/welcometocanada.

Please connect edumitru@amnesty.ca if you would like details on the Toronto demo (or the other two locations).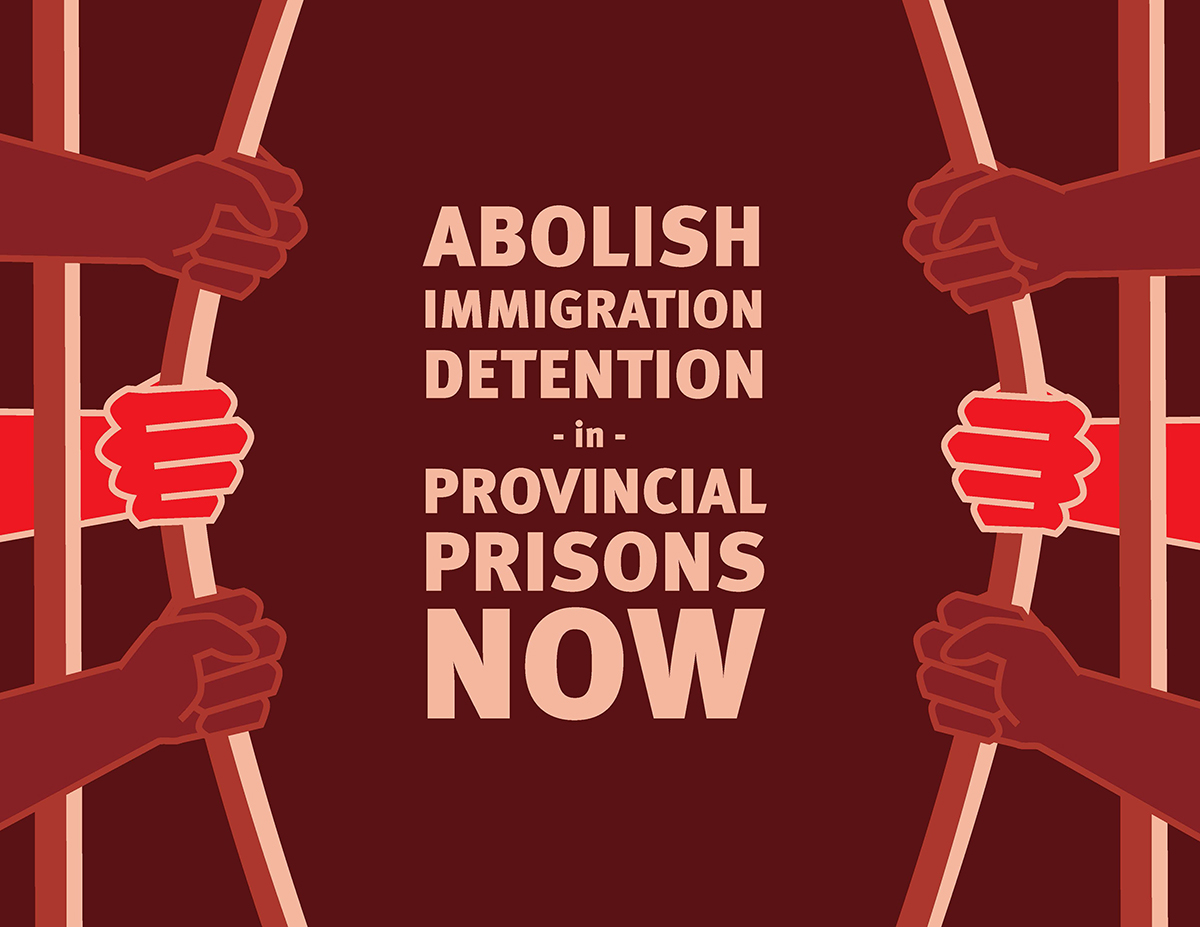 Graphic design: HyunGu Kang


AMNESTY CAFE: Awareness and Action
When: Friday June 24th, 6pm – 8pm
Where: Centre for Social Innovation, 720 Bathurst Street

The AI Canada National Organizers are hosting a Coffee and Kunafe Night – an Amnesty CAFE on Friday, June 24th, 2022 from 6pm to 8pm.

The event will take place at the Centre for Social Innovation, 720 Bathurst St (at Bloor).
The CAFE will focus on the Israel Occupied Palestine Territories and has as aim to inform and educate attendees about the history behind the land and to engage participants to take action.

In the program: guest speaker from Independent Jewish Voices; solidarity action photo booth; letter writing; networking; coffee, tea and kunafe; raffle prizes.

Free event! Everyone welcome!

Please check regularly the event page for link to registration form. We hope to upload it in the next few days. Thank you!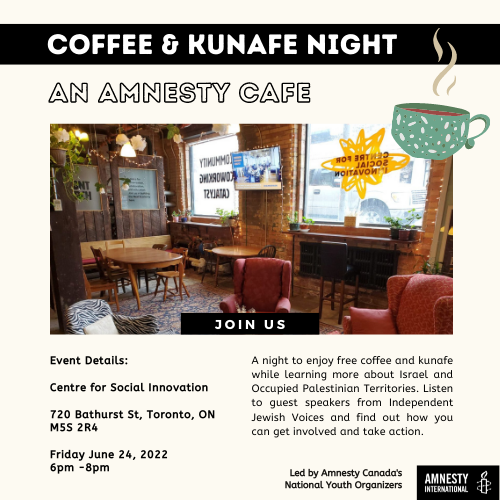 Faceless Dolls Project: Virtual Campaign
May 16 – July 1, 2022 Organized by AI Canada Gender Rights team in partnership with the Native Women's Association of Canada (NWAC)

The Faceless Dolls Project was initiated by the Native Women's Association of Canada (NWAC) in the spring of 2012 and builds upon Gloria Larocque's Angel Doll project. The purpose of this project is to generate greater recognition of the pervasive issue of missing and murdered Indigenous women and girls within Canada through art. The dolls are a visual representation of the 582 known cases of missing and murdered Indigenous women and girls and have been used as part of a travelling exhibit launched in Ottawa in 2013. Each doll represents an Indigenous woman who has become a 'faceless' victim of a heinous crime.

This project is being re-introduced in collaboration with NWAC and has been adapted to be suitable to conduct online. Amnesty International Canada volunteers have prepared resources to enable us to collectively commemorate and honor missing and murdered Indigenous women and girls regardless of where we are situated.

Please click this link to find out how you can participate (resources, online doll templates, webinar recording, submission link).
MATCHSTICK YOUTH MAGAZINE
SUBMISSIONS FOR ISSUE 002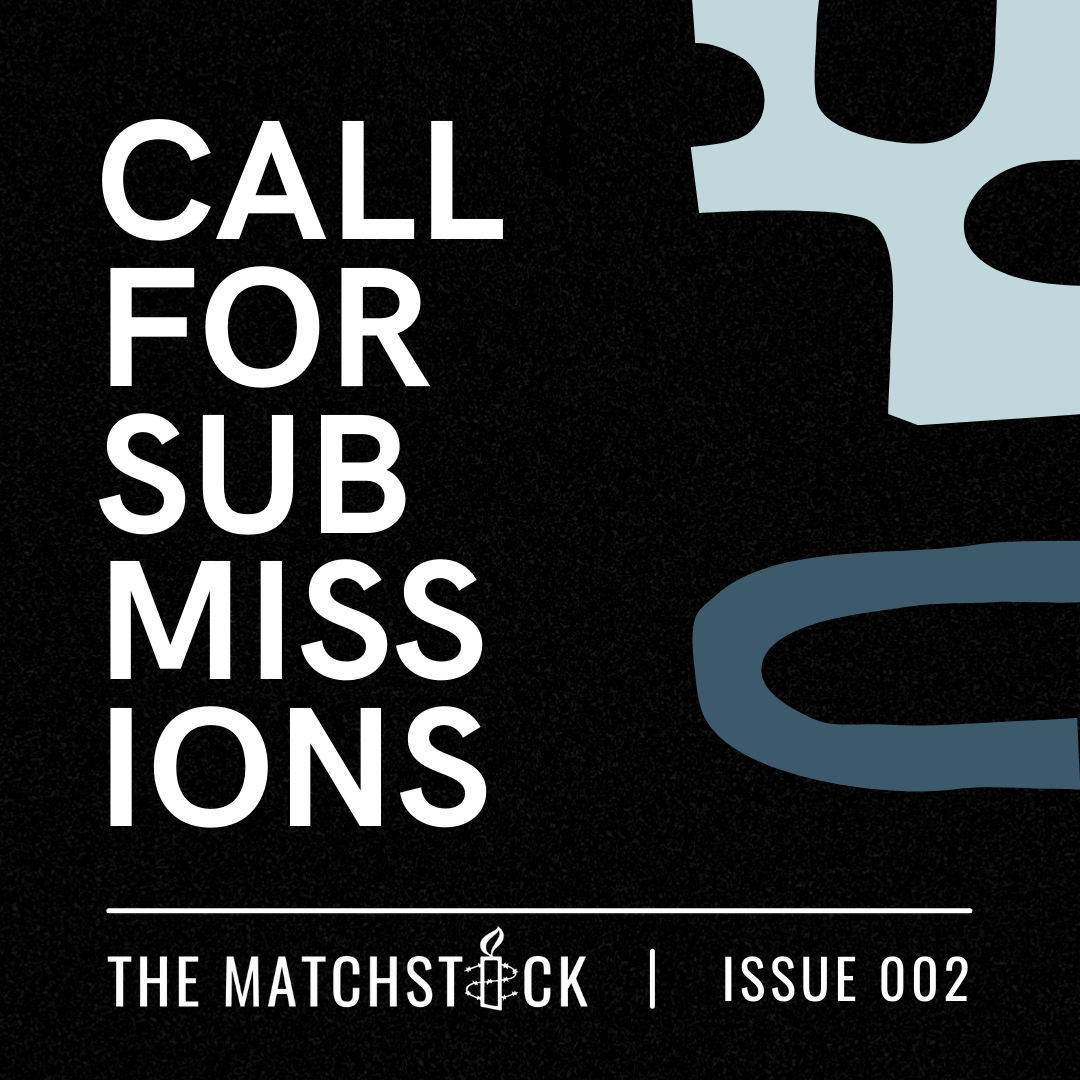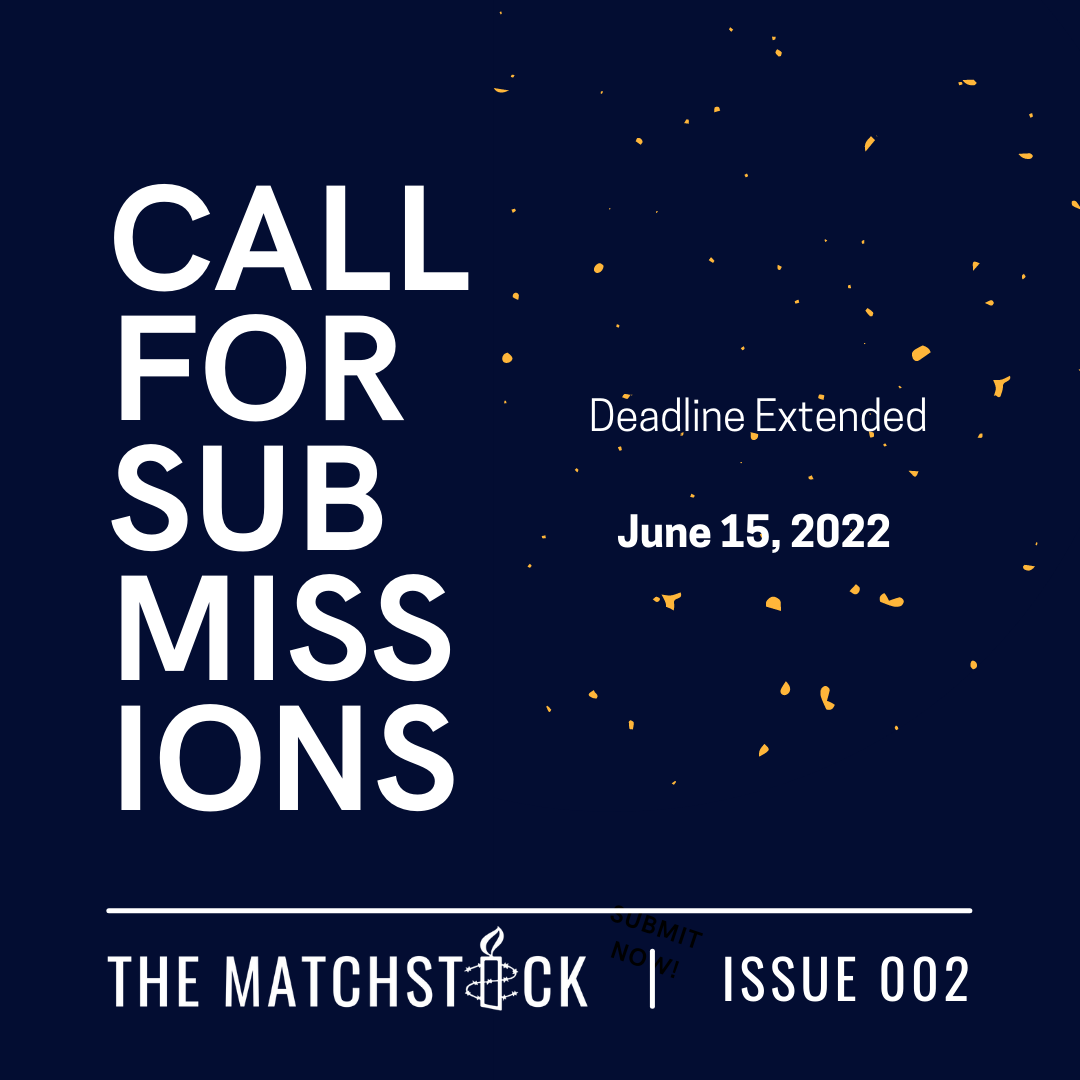 The Matchstick is open for submissions across Canada and looking for Literary/Visual Arts pieces from young activists up to the age of 25. Submissions information.