AI Canada's Seasonal Activism Guide is Out!
Welcome to your Winter 2021 Activism Guide!

COVID-19 continues to shape all our lives into 2021, but we haven't allowed it to stop our human rights activism or our connection to each other. While our tactics have shifted, the Activism Guide contains everything you need to take action with Amnesty International this winter and early spring.

Please share this guide with your networks or encourage them to subscribe.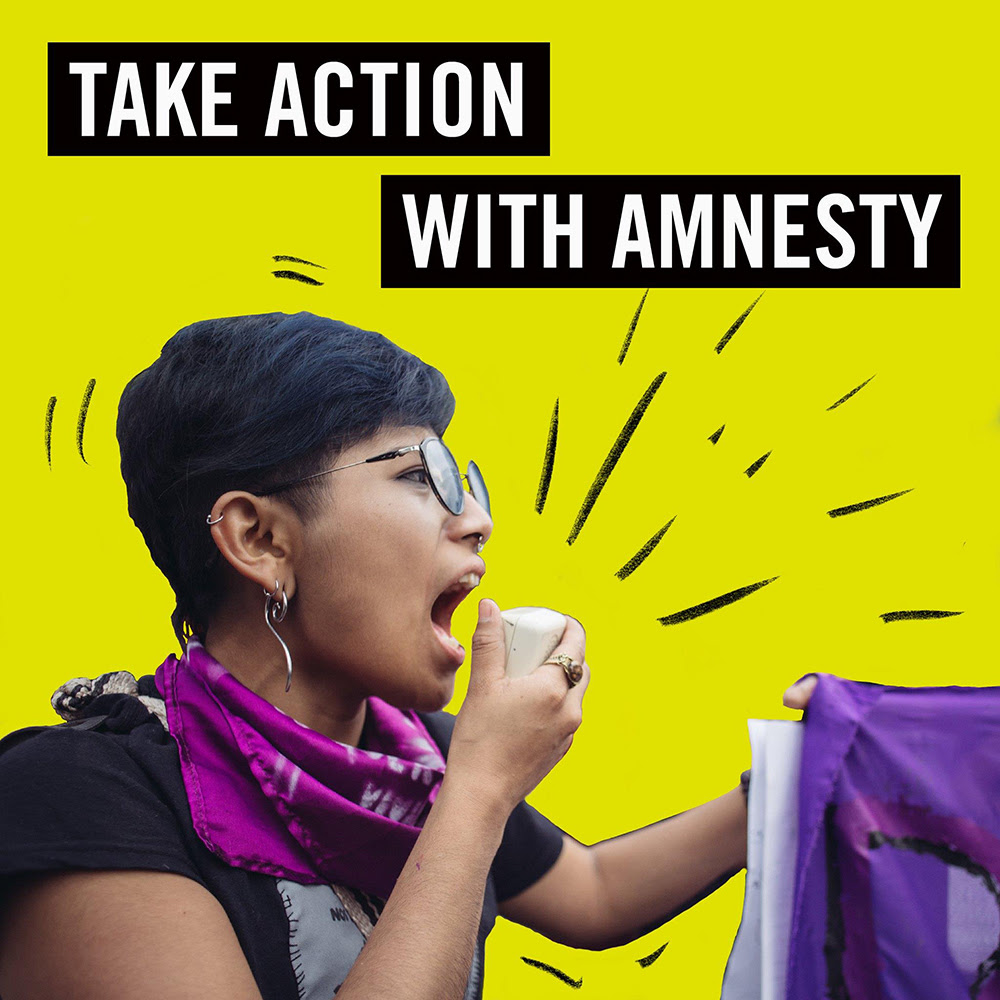 MATCHSTICK 'zine for youth – Call for SubmissionsAre you an artist or writer who is passionate about justice, human rights advocacy, and the power of activism? The Matchstick, Amnesty Canada's biannual Arts & Lit magazine, is now open for submissions to youth under the age of 25!

We are accepting poetry, prose, visual arts and several other mediums of creative expression until the submission deadline of March 31, 2021.

Check out The Matchstick's website for all eligibility and submission guidelines and please share the information with youth you think might be interested and with teachers, educators, schools in your network: www.TheMatchstick.org/Submissions.


RechargeForPowerWhat do I need to know about a just energy transition? There's a good chance that the laptop, tablet or phone that you are using to read this contains a power storage unit. Unfortunately, many of the minerals used to make battery components are tainted with human rights abuses.

Without adequate human rights protections in place the impact will be devastating for people involved in the extraction of these minerals. Now is the time for strong government regulation of the industry and enforcement of human rights and environmental protections.

Read about Amnesty Canada's new campaign to Power a Just Energy Transition. Check and share our new comic book on energy transition! https://bit.ly/36ketQi

Amnesty International Toronto Organization (AITO)
Monthly Meeting
Please join us for our February monthly AITO members meeting of the new year, taking place Thursday, February 18th at 7 PM.All groups, teams and networks are encouraged to attend to share a report on your plans and activities for the coming year. For new members and volunteers, there are many learning opportunities and it is a great way to discover how the organization works and how you can become more involved.Registration is required in advance, please RSVP at https://zoom.us/meeting/register/tJUpdOqrrT0pGd1YNH3DBfUxMvN0UDV699mx.We look forward to seeing you there!

For more information please contact aitosecretary@aito.ca.
AI Toronto BHR Indigenous Rights Specialized TeamAs our Amnesty offices are still closed please note the AI Toronto Business&Human Rights/Indigenous Rights Specialized Team is continuing their monthly meetings online.
Our online meetings will be taking place on the first week of each month starting with March so please stay tuned for the March date and time to be announced in our next GTA Newsletter.To join the group and find out more information please contact:
amnestytoronto.bhr.ir@gmail.com. We look forward to having you join us!
AI Canada Webinars and Other Online EventsAmnesty 101 new member orientation
Are you new to Amnesty International, or just need to update your knowledge of our priority campaigns and actions? Then register now for Amnesty 101! You'll learn how Amnesty International started, hear what we've been working on over the years, and discover what's coming up in the months ahead. What do national organizers do? How do I a join or start an Amnesty group at my school or in my community? Is it still important to write letters and sign petitions? All this and more will be revealed, and in just one exciting hour of your time!February 3 REGISTER HERE

Lobbying and Advocacy
Join Amnesty for a skills training on lobbying and advocacy, to get ready for our virtual lobby day on refugee rights.
February 8 REGISTER HERE Resources for Activists: Well-Being WorkbookAs activists we need to protect our mental health and wellbeing. But what do we mean when talking about stress, burnout, anxiety and depression?

Volume 2 in the Staying Resilient While Trying to Save the World series "A Well-Being Workbook for Youth Activists" was drafted together with youth activists and informed by realities faced by Amnesty International activists across the globe. We are super happy to finally see it launched! Read more HERE.
Resources for Activists: Right to Protest CourseTake this new 3-hour course to learn why protest is protected by human rights, how the freedom to protest is under threat throughout the world, and how you can defend your right to protest. By the end of this course you will be able to: Define the scope of the right to protest, Describe how the right to protest is protected by international law, Outline challenges to the right to protest, Demand adequate and rights-respecting policing practices, Develop strategies for staying safe and secure while participating in protests, and Take action to defend the right to protest.
This newsletter is produced by
Elena Dumitru, National Leadership Development Coordinator, AICS (ES)

If you have questions, comments, or would like more information on any aspect of Amnesty's work, we'd love to hear from you. Please call us at 1-800-AMNESTY (1-800-266-3789) OR by email.